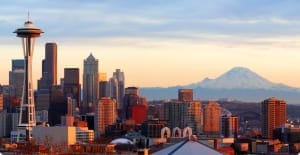 We're thrilled that Infrastructure was a big winner in November's elections! Voters in 22 states passed $201 billion in project funding. While L.A., Atlanta and San Francisco fared well, Washington state is one of the biggest winners, especially the Puget Sound region. Seattle residents voted in $54 billion in public transportation expansions. Paid for with property, sales and car-tab taxes, Sound Transit 3 (ST3) will fund projects to be built over the next 25 years. Add to this the $16.1 billion of funding for statewide transportation needs passed by the state legislature in 2015, and it's clear that good days are ahead for both commuters and engineers.
As recruiters, we've seen talent shortages in the Seattle area for the past several years. Demand for skilled civil engineers exceeds supply in many specializations, so new projects about to hit the funnel will place strains on an already tight market. Opportunities exist for those willing to go after them! And Seattle consistently ranks at the top of America's best places to live and most desirable cities to move to.
Have you lived in Seattle before and want to go back? Are you already thinking about moving there? Are you making a list of possible relocation destinations?
We're seeking people with backgrounds in bridge or highway design/project management who are eager to take on organizational leadership responsibilities. We're also looking for people with experience in transit structures.
To express your interest, send me an email at lhaynes@redmondsearch.com or pick up the phone and call me at 904-683-7000 x12. We look forward to hearing from you!